Bloomberg –
by Paul Wallace and Emele Onu –
Central bank has sought to reassure foreign investors

IMF sees Nigerian economy contracting 1.8% this year
Nigeria's naira fell to a record against the dollar as Africa's largest economy struggles with a scarcity of foreign exchange more than a month after the currency was devalued.
The naira weakened beyond 300 to the dollar for the first time on Friday, according to generic data compiled by Bloomberg, tumbling 2.3 percent to 300.25 by 2:37 p.m. in Lagos, Nigeria's commercial capital. The central bank on June 20 ended a 16-month peg that had confined the naira to a range of 197-199. It dropped 20 percent on the first day of trading without the curbs.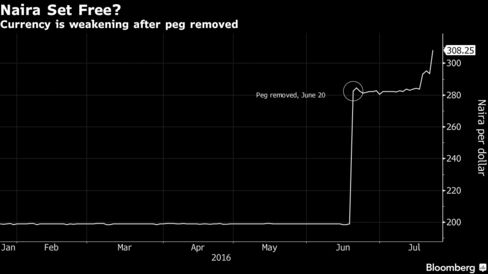 "The central bank has indicated that primary dealers are free to quote the dollar-naira at the appropriate level," said Samir Gadio, head of Africa strategy at Standard Chartered Plc in London. "As market stakeholders realize that the forex flexibility was real, they decided to be proactive in the way they quote."
Central bank Governor Godwin Emefiele met investors in the U.S. and U.K. last week to encourage them to buy naira stocks and bonds. Emefiele dismissed suggestions that there was too little foreign-exchange liquidity, according to people who attended the private talks. Nigeria faces a tricky sell, with inflation rising, the economy weakening and production of oil, which provides the bulk of export earnings, down since February as militants attack pipelines. The economy will probably shrink 1.8 percent this year, the International Monetary Fund said Tuesday.Forward contracts, which are bought and sold offshore and seen as a gauge of foreign investors' views on the currency, also climbed to record highs Friday, suggesting traders expect the naira to drop further. Non-deliverable forwards maturing in three months rose 4.6 percent to 345 per dollar, while dollars cost about 375 naira on the black market.
Forwards jumped and volatility surged following the central bank's meetings with investors and after it removed a rule capping the difference, or spread, between bids and offers in the foreign-exchange interbank market at 50 kobo on July 15.
The central bank has said it is curbing demand for foreign currency by preventing importers of "non-essential" items ranging from glass to textiles from using the interbank market, forcing them on to the black market. Plus, to prevent speculation, all purchases of dollars in the interbank market have to be backed by customer orders, meaning primary dealers and other banks can't trade for a profit on their own behalf.
Leave a reply →